We have built the first Flipflopi Dhow – a prototype.
At 10 metres in length and weighing about 7 tonnes – it is quite a spectacle, and a considerable achievement by Ali Skanda and his team of boatbuilders. The boat was launched in Lamu – at Ali's boat yard – in September 2018 by Kenya's Minister for Tourism and Wildlife, the Lamu County Governor, media and crowds of local Lamunians all interested to see the conclusion of all the beach clean ups they'd either witnessed or been involved in.
Lamu Island is on the north Kenya coast, and has long been the most important centre for dhow building in the region. Lamu Town itself is a UNESCO World Heritage Site and is the oldest and best preserved Swahili settlement in East Africa, having been inhabited since 1370.
Waste plastics, mainly from Lamu's beaches, were used to construct the entire boat. The keel, ribs and structural elements are all made from recycled plastic including bottles and bags, whilst the hull and decking is covered completely by re-purposed flip-flops. Despite the unusual materials, the vessel was constructed by local craftsmen using traditional methods, and we were thrilled to see it set sail with Ali Skanda at the helm and the Tourism Minister and entourage enjoying the ride.
The prototype Flipflopi is already very busy sailing around Lamu and regional waters (including an expedition to Zanzibar in early 2019) – and in so doing it is conducting excellent advocacy for the recycling and re-use of single use plastics. However owing to her size, we can not sail the Flipflopi dhow further afield.
And we really need to…
So we are now engaged with building a 20 metre boat, so that we can sail the message, not just regionally, but around the world. It will allow us to continue the Flipflopi's important advocacy in the Indian Ocean region, sailing initially to Cape Town, an expedition that will included 5000+ kms of sailing and take approximately 3 months. By doing so the Flipflopi will become the world's single most recognisable emblem of the global fight against single use plastics!
BEACH TO BOAT YARD: HOW IT'S DONE
THIS IS THE ACTUAL PLASTIC AND WASTE FOUND ON THE BEACH
THESE ARE SOME OF THE FLIPFLOPS THAT WERE FOUND ON THE BEACH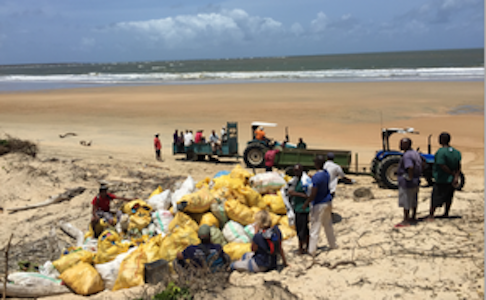 IT TOOK A TEAM OF 50 PEOPLE ON A 5KM STRETCH 3 HOURS TO COLLECT 5 TONNES OF PLASTIC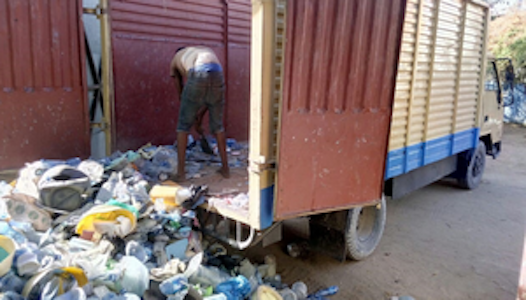 45 TONS OF PLASTIC WILL BE COLLECTED AND RECYCLED INTO PARTS OF THE DHOW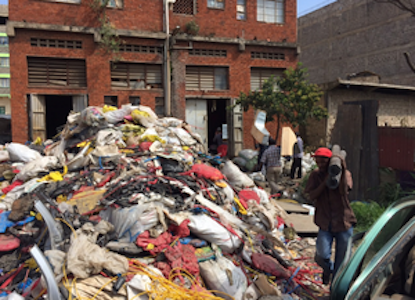 IF THIS PLASTIC WASN'T HERE IT WOULD BE IN THE SEA, THE BEACH OR INSIDE THE STOMACH OF BIRDS AND FISH
THE PLASTICS ARE SORTED, SHREDDED AND THEN PLACED INTO BAGS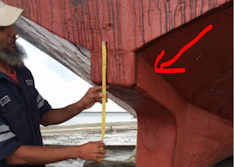 MEANWHILE OUR CHIEF DHOW BUILDER TAKES ACTUAL MEASUREMENTS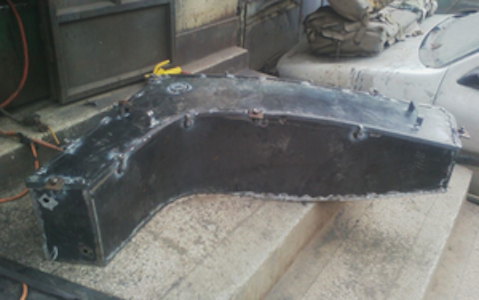 THE LOCAL METAL FABRICATORS MAKE STEEL MOULDS IN THE SHAPES OF THE BIG PARTS OF THE DHOW
THESE PARTS ARE TRADITIONALLY MADE FROM GIANT HARDWOOD THAT IS NO LONGER FOUND EASILY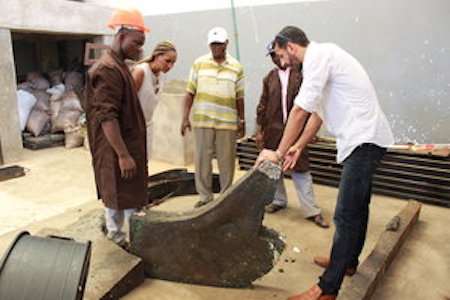 WE USE THE SAME PROCESS TO MAKE THE PLANKS, POLES AND TILES NEEDED TO MAKE OUR DHOW BOAT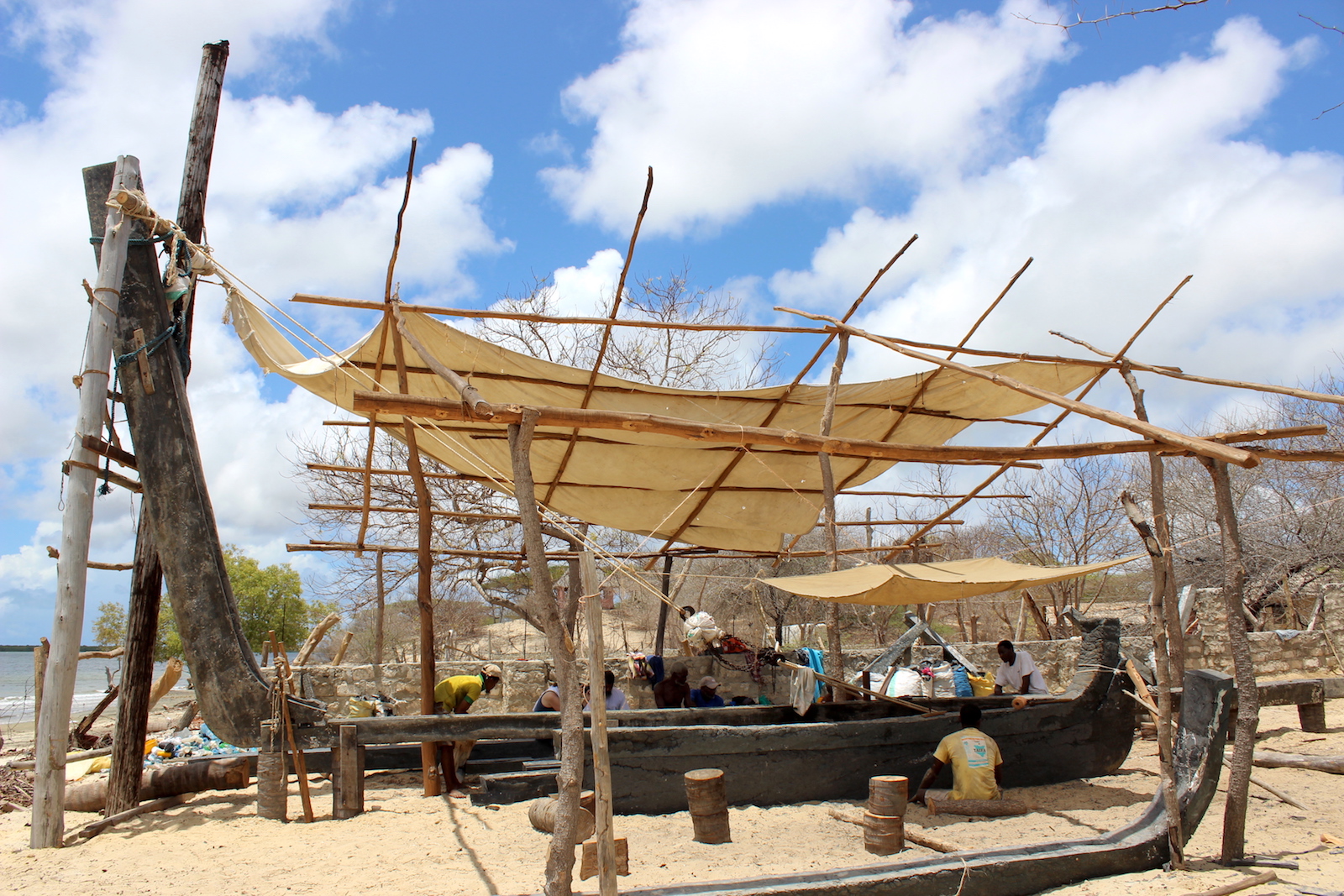 THE FINISHED RECYCLED PARTS ARE SENT TO OUR DHOW BUILDERS IN LAMU FOR ASSEMBLING
14 MONTHS OF HARD WORK LATER, AND WE'LL HAVE A BEAUTIFUL 60FT, 45 TONNE, SAILING DHOW LOOKING EXACTLY LIKE THIS
Has anything like This ever Been Done Before?
No, this is the first time a dhow has been built from waste plastics. Successfully reaching Cape Town will be a world first for a lateen rigged Swahili dhow.
HOW MUCH PLASTIC DO YOU EXPECT TO USE?
We don't know is the honest answer. But our best estimate is that we'll remove approx 5 million plastic bags & over 200,000 discarded flip-flops from the environment to build the dhow.
How many sails does a Dhow have? Can it sail upwind?
Most dhows, including the FlipFlopi, have a single large lateen (triangular) sail, mounted at an angle on the mast, and this does allow it to tack upwind.
WHY HASN'T THIS BEEN DONE BEFORE?
Given how inexpensive, durable and widely abundant plastic waste is - its surprising that it hasn't. Plastic comes in 7 commonly found types which are rarely sorted in the waste streams - the expense in 'sorting' it has probably put people off... until now that is :-)!
How and where will we get all the FLIP-FLOPS from?
Beach clean-ups organised with schools, tourism businesses, conservation organisations & community groups are collecting flip-flops all along the Kenyan coast.
WHY ARE YOU BUILDING A DHOW?
We want to celebrate the centuries old traditional craft of dhow building that is a cornerstone of the Swahili culture of our coastal region. By mixing pioneering materials with traditional craftsmanship, we will help preserve this important part of Kenyan cultural heritage.